tkdiff - A portable file diff
tkdiff is a portable file comparison tool written in Tcl/Tk.

Notes:
The tkdiff version included in the poApps starpack is a slightly modified version of the original tkdiff version 4.2.
A patched standalone version of tkdiff based on version 4.1.4 is available in the download section below. This version adds two new commands Save as left and Save as right to tkdiff's popup menu. This feature must be enabled in the Preferences window.
Screenshots: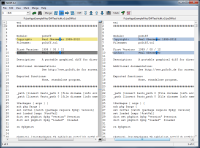 Main window

Downloads:
Note, that tkdiff is now part of the poApps starpack. It can be downloaded from the poApps main page.
See the news and release history page for a list of changes.